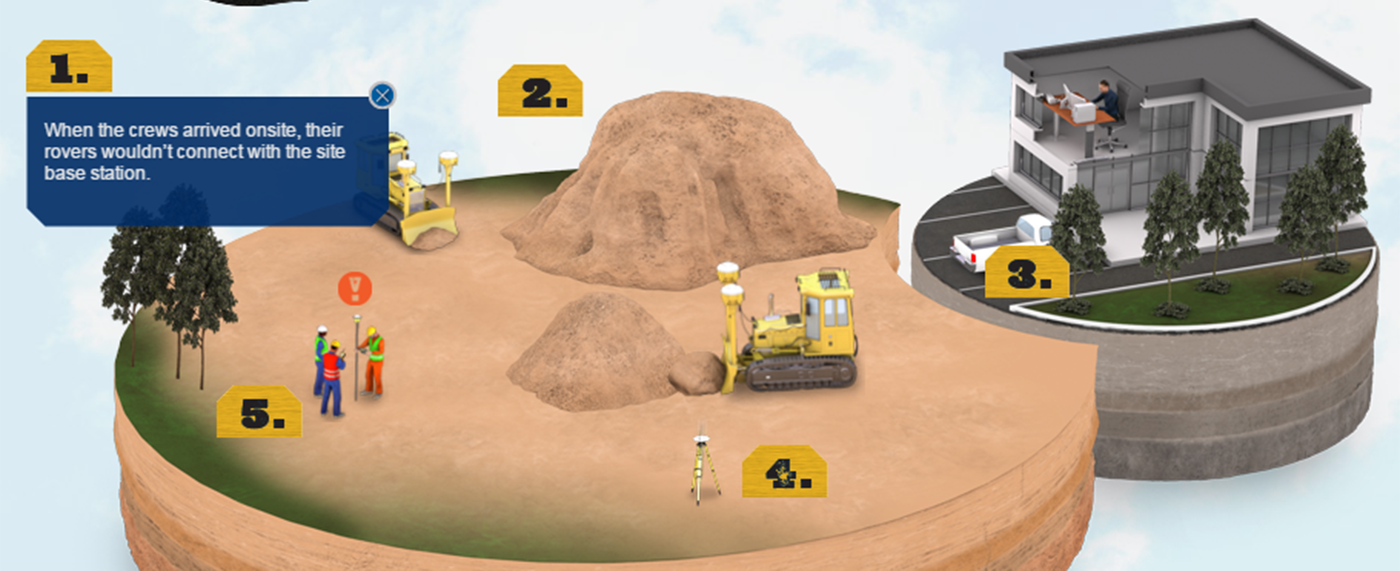 Connect everyone on the job – from the owner to the operator – so your project is on-time and on-budget.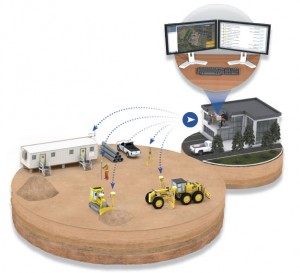 Connected Community is the backbone of the Trimble Connected Site, helping you manage and share information in real-time using the Internet. Whether you're in the office working on a design or in the field working on a machine, you'll be in the know.
EFFICIENT, INTEGRATED DATA MANAGEMENT
Easily access design files from Business Center – HCE and asset and site productivity information from VisionLink®
Make decisions quickly and review progress before mistakes happen

SAVE TIME AND MONEY
Stop wasting valuable hours driving out to the jobsite and start managing your crew, devices and sites effectively from the office
Extend the range of your existing base station corrections, and reduce your equipment needs
See and interact with Trimble machine control and site positioning software for troubleshooting and training
Less driving and more information flowing between the office and job site, gives you time to make decisions that will save you money
INSTANTLY CONNECT THE OFFICE AND THE FIELD
With secure hosting, unlimited data retention, upgradeable storage plans and data back-up, you can rely on Connected Community to make your workflow easier and more productive. Along with email notifications and alerts to the site and office, file sharing and automatic file synchronization, you just got an extra leg stretch to the water cooler.
POWERFUL TOOLS AND SERVICES
Connected Community offers powerful tools such as IBSS – Internet Base Station Service – which extends the range of your existing base station corrections, and reduces your equipment needs. Remote Assistant allows the office support team to see and interact with Trimble Grade Control Systems and Site Positioning Systems.
REMOTE ASSISTANT
A picture is worth a thousand words. With Trimble Remote Assistant, real-time technical support is available to field crew personnel or earthworks machine operators, without the time and cost of waiting for a technician to drive to the construction site. Both the field crews and the support team see the same picture, eliminating costly delays, downtime and drive time.
SUPPORT
Everyday issues such as design file versioning and machine configuration for grade control can be addressed without ever leaving the office or taking the machine out of production.
Everyone has the same information so issues can be solved quickly and easily

TRAINING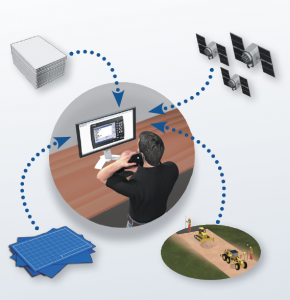 Increase machine operator and field crew performance, train inexperienced workers and deploy new personnel to the field using remote, on-the-job, personalized training
Train field teams so they can confirm design file versions and update software modules while they are in the field
The trainer and operator see the same screen resulting in quick meaningful training

WIRELESS DATA SYNC
USB sticks and cables are a thing of the past.
Download and upload files by using the transfer button on your field device, or even set up an automatic sync so the field device files are uploaded to Connected Community automatically
Send work files effortlessly with no drive time in real time
Upload design files to machines and controllers without even leaving the office
100% less drive time 100% of the time

INTERNET BASE STATION SERVICE
With only one base station and a Connected Community subscription you'll get up to 19 miles (30 kilometers) of coverage without line of sight.
Perfect for linear projects, and remote or offsite areas such as borrow pits and dump sites,
Uses cellular technology and the Internet to keep you connected
Reduced daily set up times and costs so you'll be up and running in no time