Superior Hearing Protection + Communication Capacity
Improve safety and productivity on your job site with the Clear 360 Pro Headset. Clear 360 provides superior hearing protection without sacrificing your team's ability to communicate or locate the source of sounds.
Excessive sound levels like jackhammers or impact sounds like dropped steel on concrete are a threat to the hearing health of your team. Muffling sounds offers protection but reduces critical situational awareness. With Clear 360, all sounds are reduced by approximately 24dB but important, real-world sounds are transmitted via microphone. The Clear 360 Pro's patented sound processing places emphasis on enhancing voice frequencies so conversations and warnings are now possible in loud environments.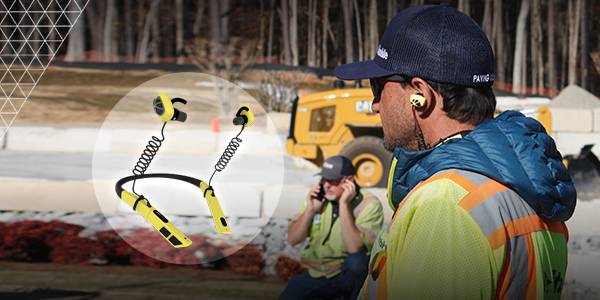 Benefits
Protect the user's hearing from sustained excessive sounds or dangerous impact sounds
Reduce construction site injuries and fatalities caused by an inability to hear
How it Works
Foam tips reduce all sound by approximately 24dB (OSHA safe level is 90 dB)
A microphone, processor, and speaker transmit real-world sounds at a safe dB level
Maintains user ability to locate the source of sounds for 360 auditory situational awareness
Bluetooth connectivity to cell phones and radios so personnel can communicate clearly and safely even in harsh sound environments
Customizable to different users and noise environments
Features
16-hour battery life
Water and dust resistant
24 NRR Protection
Bluetooth 5.0
Five listening modes
360-degree auditory situational awareness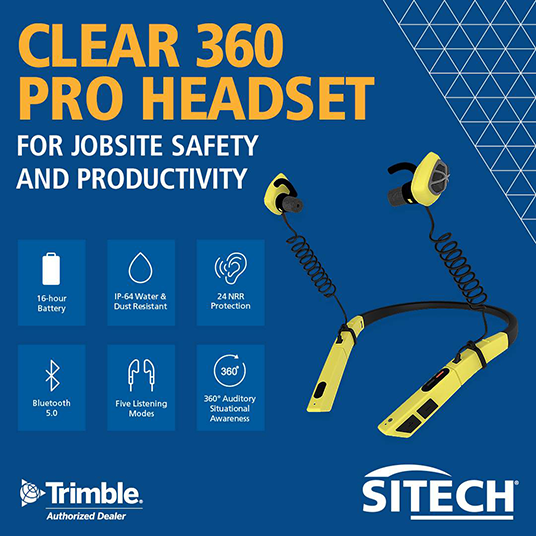 Download the Brochure
If you're ready to see how Clear 360 Pro Headset can improve safety and productivity on your worksites, you can request more information or download our brochure today.
Call today or fill out the form below to request a quote.