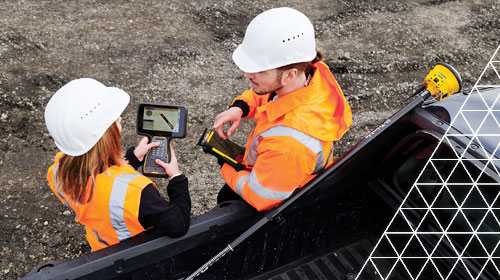 Trimble Siteworks Positioning Systems are designed to reduce downtime by making each minute more productive. It handles complex files and 3D data sets rapidly to spot issues and problems before they can slow you down.
Trimble Siteworks Software
The Trimble Siteworks Software is optimized for ease-of-use and productivity, It efficiently collects and distributes site measurements, performs state-out tasks, manages multiple works orders and job sites, monitors progress, reports results, and more.
SYSTEM CONFIGURATIONS
SITEWORKS FOR CONSTRUCTION SURVEYORS- Work with complex 3D models, quickly collect large data sets, and visualize 3D models and work day or night efficiently
SITEWORKS FOR SUPERVISORS – run full office software packages and easily work with data models in the field without carrying a laptop
CONNECTED DEVICES
Trimble Controllers
Trimble Tablets
Andriod Devices
Trimble Smart Antennas