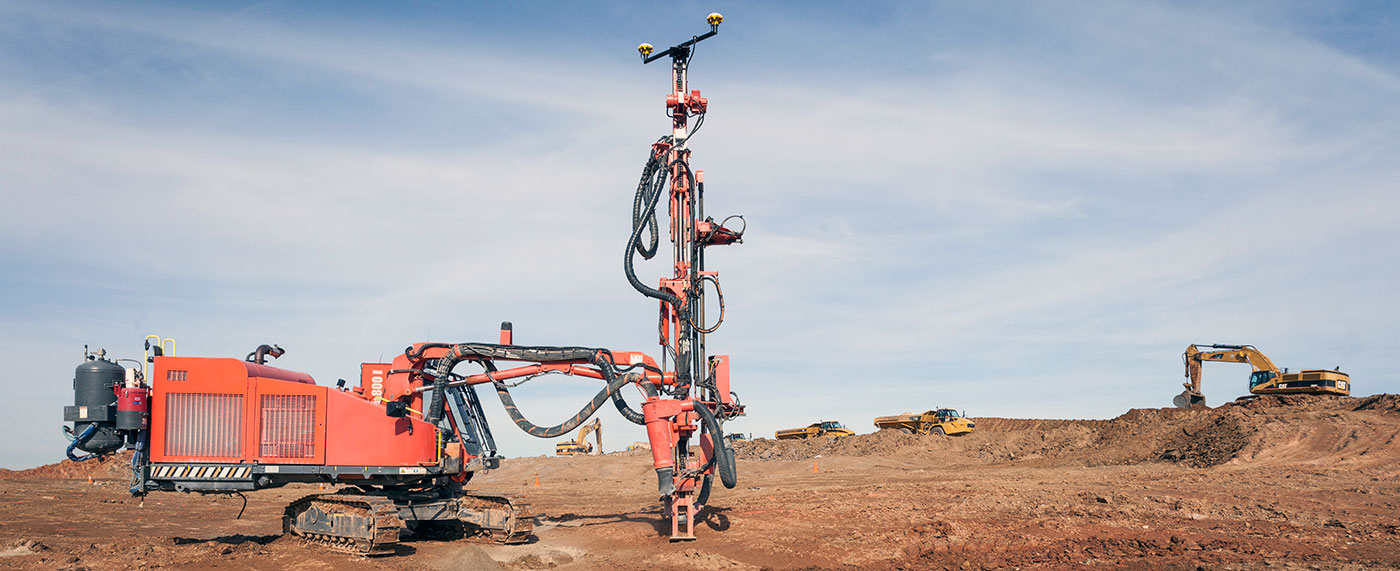 Increase the safety, accuracy and efficiency of your drilling operations. All day. All night. And under almost any conditions.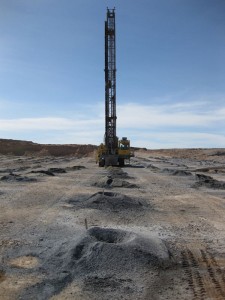 Get a quick return on your investment – DPS900 can pay for itself in just four months by:
DRILLING EXACTLY TO THE DEPTH YOU NEED
Reduced overdrilling means your machine drill bits and hammers won't wear out as fast.

DRILLING ANGLES AND HOLES THAT ARE EVENLY SPACED
An even pattern of blasting delivers better surfaces and improves rock fragmentation to minimize hauling expense.

INCREASING SITE SAFETY
With DPS900 you can see the machine blind spots and warn the operator when he's working where he shouldn't be
Accurately control drill pitch and roll, and the depth of drilling, including an auto-stop feature.

REDUCING TIME AND MONEY SPENT ON SURVEYORS AND STAKES
Stop pounding stakes and start making money.
.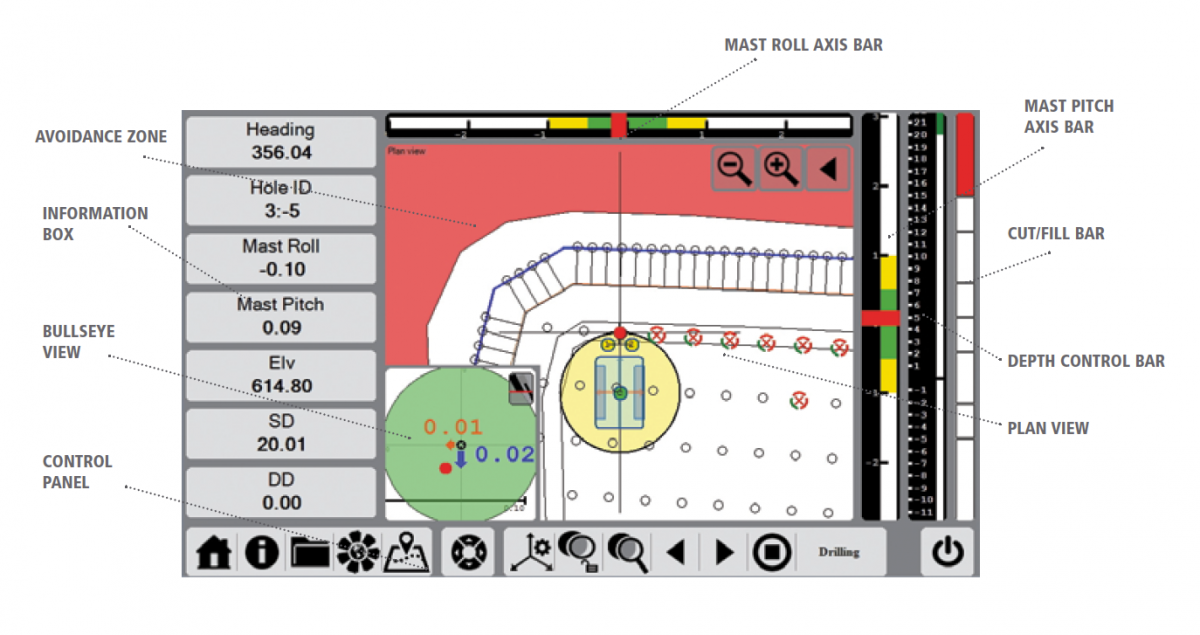 RUGGED HARDWARE
BUSINESS CENTER – HCE
Optimized drill plans. Optimal results.
Rapidly create optmized 3D drilling and piling plans with the Business Center – HCE Drill and Pile Manager module, then generate comprehensive quality and production reports.
With Business Center – HCE and DPS900, more profits are at your fingertips.

SMART OFFICE SOFTWARE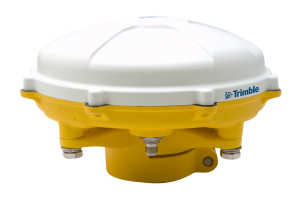 TRIMBLE ANTENNAS AND RECEIVERS
Smart and tough. A great combination.
Work in tough environments, at long ranges, with centimeter accurate 3D positioning seconds after start up with proven Trimble antennas and receivers. You get increased productivity and reduced downtime on the job.  And Trimble equipment is certified tough enough to withstand the shock and vibration of drilling machines.
---

TRIMBLE SENSORS FOR CONTROL
Maximize efficiency. Minimize rework.
Trimble sensors give you mast tilt and drill depth control with auto-stop on the target elevation for effective blasting. You can even get information about hole condition while drilling.
---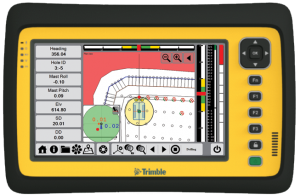 TRIMBLE SITE TABLET
Keep your machines drilling. Not sitting.
Your machines can be up and running  24/7 with the rugged and fully connected Trimble Site Tablet and DPS900 software.
The easy-to-read touch screen makes navigating to the hole, and adjusting the orientation and angle of the guide simple and quick. Start drilling. Drill to design. Stop drilling.
It's really that easy.
THE DPS900 SYSTEM IS IDEAL FOR:
Large construction cuts (roads, railways and sites)
Aggregate quarries
Mining operations
Foundations
Geological/geotechnical sampling
Exploration (oil, gas, mineral or water)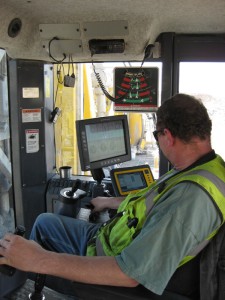 With delivery, installation, training and support from your SITECH® dealer, you're guaranteed peace of mind. With a ROI analysis. Local support, service and expertise are just a phone call away.
ON THE MACHINE
Rugged Trimble components keep your machines drilling, not sitting.
Trimble antennas and receivers

Trimble Zephyr 2 Rugged Antenna
Trimble SPS855 GNSS Modular Receiver
Trimble SPS555H GNSS Heading Add-on Modular Receiver

Trimble CAN sensor system

Trimble JB900 Junction Box – provides clean power, CAN, USB and Ethernet communications
I/O Box – provides depth auto stop and drill steel change monitoring

Trimble TS900 Tilt Sensor – monitors machine mast for tilt in the pitch and roll axis of the machine
Depth control sensors – options are available for most common installation types

IN THE CAB

DPS900 is engineered specifically for drilling operations
Large icons, a streamlined workflow and a screen that's easy to read, even in bright sunlight
The easy-to-read touch screen makes navigating to the hole, and adjusting the orientation and angle of the guide simple and quick

IN THE OFFICE
Business Center – HCE rapidly creates optimized 3D drilling plans using the Business Center – HCE Drill and Pile Manager module
Store the drill plans in the cloud for on-site retrieval by DPS900. No more driving out to the site to make updates
DPS900 gathers the field data so Business Center – HCE can run accurate quality, production, utilization and consumables reports